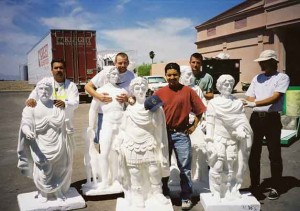 Our Company
From custom sculptures to themed environments, our experienced professionals can create styles that range from the ornate classical to the streamlined contemporary.
We offer a selection of creative services and solutions that respond to your individual needs. We can take your creative ideas and develop these visions into a finished product.
We work closely with our clients to provide the highest quality outcomes, down to the finest details. Our goal is to provide superior levels of service and attention by clearly communicating with our clients. From concept to completion, arThrob guarantees client satisfaction.
Architectural specialties
Custom residential, commercial, restaurants, casinos, theme parks, museums, retail stores, trade shows, signage, churches and religious centers.
Custom sculptures, decorative panels, bas relief, interior and exterior facades, ceiling treatments, custom columns, custom mouldings, fireplace surrounds, medallions, steel and aluminum artwork, themed environments, kiosks, custom store fixtures, dioramas, hardscapes, faux rockwork, scenic sets and props, natural settings, sculpted trees, scenic background, custom painting, children's play areas, and soft sculpture.
Services
Design
• Concept drawings
• Models
• Sample boards
• Shop drawings
• Sketches/renderings
Fabrication
• Armatures
• Carpentry
• Metal work
• Mold making
• Welding
Casting
• Cast stone
• Cement
• Fiberglass
• GFRG
• GFRC
• Plaster
• Urethanes
• Epoxies
Sculpting
• Clay
• Concrete
• EPS foam
• Plaster
• Polyurethane foam
Painting
• Acrylic
• Airbrushing
• Artistic paint finishes
• Commissions
• Faux finishes
• Mixed media
• Murals
• Scenic
Management
• Art direction
• Consultation
• Cost estimates
• Installation
• Project management
• Proposals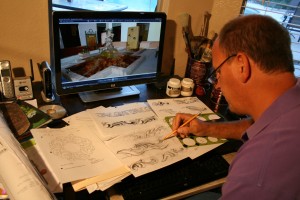 Process
Step 1 – Complimentary Meeting
Discuss Project and ideas.
Step 2 – Commitment to Project
Continued discussion and development of ideas, initial sketches, timelines, budget expectations, and retainer.
Step 3 – Fabrication
Finalize designs, create product.
Step 4 – Completion
Delivery of product and/or custom installation.